Helping Those with Intellectual and Developmental Disabilities Live Full Lives
The Miles for Miles (M4M) Foundation was created in honor of Miles Peck, who was born with Down syndrome on July 22, 2009. M4M supports local non profits who enhance the lives of others with intellectual and developmental disabilities (IDD).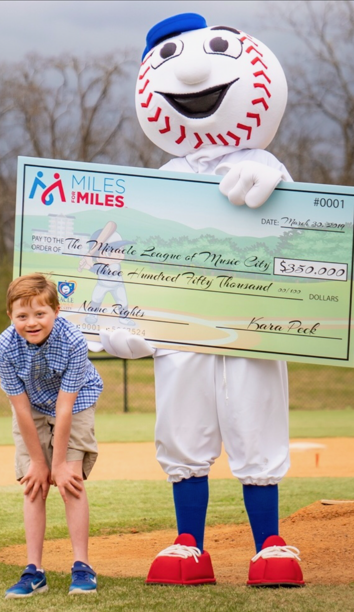 TAKE ME OUT TO THE BALLGAME!
"Every child deserves the chance to play baseball!" and that is exactly what we hope for – that ALL children can play sports regardless of limitation and/or need. In an effort to further that goal, Miles for Miles is proud to announce that we have acquired the naming rights to the future Miles for Miles Miracle League Complex, which will be located in the Edwin Warner ball park across from Steeplechase.
The Miracle League of Music City is in the process of raising funds to construct the miracle field complex. The league is a non-profit organization focused on providing a safe and enjoyable team sport experience for kids and adults with disabilities regardless of his or her experience level or ability.
When built, the Miracle Field complex will be a 100% Handicap accessible rubberized baseball field and will include special dugouts, restrooms, and playground. For more information and to check out the renderings of the new complex, please check out The Miracle League of Music City's website.
HIRING HEROES!
Miles for Miles is a founding partner and continual supporter of the Best Buddies TN JOBS program – founded in 2015. This program secures employment for people with IDD, allowing them to earn an income, pay taxes, and continuously and independently support themselves.
On May 1st, 2019 Best Buddies will host its first annual graduation of JOBS participants that have been fully integrated into employment. We celebrate these participants, their employers, and the outstanding commitment that Best Buddies is providing. Miles for Miles has stood with this program since the beginning — developing partnerships with employers and making a difference in our community and the lives of others with intellectual and developmental disabilities.
JOBS SPOTLIGHT: NELIA JOBE
Employer: Franklin Marriott of Cool Springs
Hired Date: 07/06/2015
23.5 hours per week
OUR SPONSORS & PARTNERS
THE AMAZING PEOPLE AND COMPANIES THAT HELP AND SUPPORT US
Karen & Danny Dugan
Focus Search Partners- Beth & Paul Frankenberg
Raymond James- Allison & Andrew Fowler
Traci & Steve Hannah
VACO- Christy & Brian Waller
Caroline & Billy Hamburg
Advance Financial- Tina & Mike Hodges
Milek Media- Mandy & Jason Milek
TSH – The Stanley Families
The Person's Firm- Amanda & Ben Persons
Pancoast Benfits- Krissi & Brent Watkins
Elizabeth & Craig Reavis
Bettina & Wendell Moore
Leigh Ann & Todd Jones
Greta & Scott Coleman
Nancy& Todd Raines
Julie & Tom Turner
Kara & Chris Peck